HOME IN ECLECTIC STYLE FOR THE ARTIST
Location: Chisinau (Republic of Moldova)
The total area: 100 m2 / 1,119 SqFt
Gorgeous apartment is owned by a young artist with a strong character and big charisma. No wonder, the main customer requirement was to create the design of the apartment in the way it would reflect her personality and lifestyle.
The apartment is composed of a large vestibule with a direct access into the living/dining room, kitchen, bathroom, master bedroom, walk-in closet, guest bedroom, and two balconies. In a benefit to the apartment, there are floor-to-ceiling windows that flood home with a natural light and breathtaking panoramic view.
After reviewing the pros and cons, and taking into consideration all client's requirements, Staver Design decides in favor of the eclectic style. As a result, you notice futurism, cubism, and Japanese minimalism brought by blending together different colors, textures, shapes, and finishes. The heart of this apartment is a living room which connects with the kitchen by oversized sliding glass doors. Meantime, the kitchen has a separate swing solid wood door that takes you straight to the vestibule. The minimalistic style of the kitchen gives greater functionality and practicality. Versus the kitchen, the living room is designed in cubism and decorated with the futuristic furniture.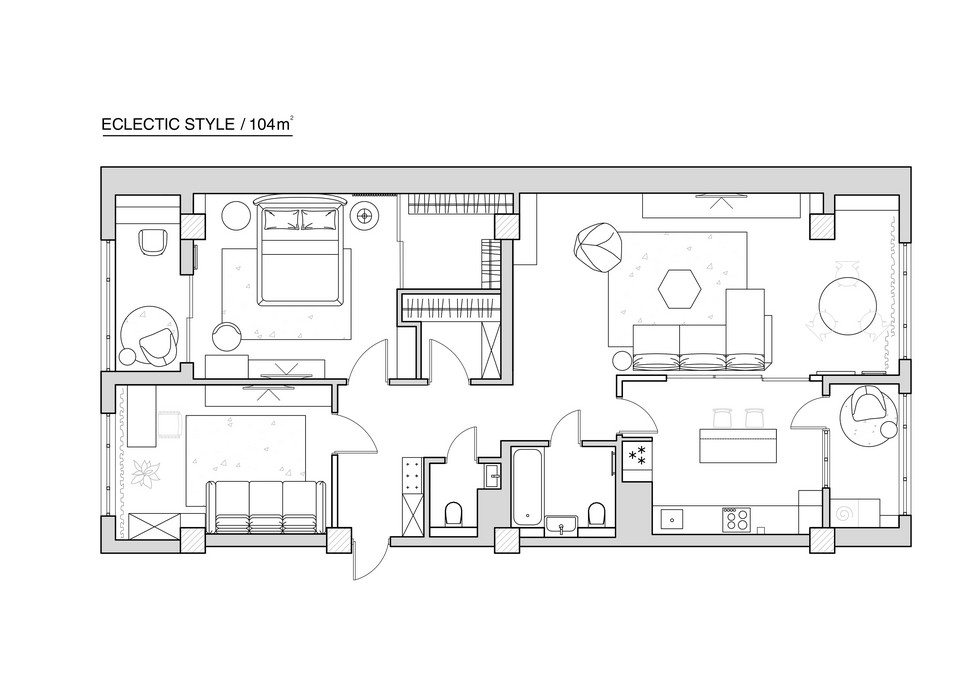 Master bedroom represents the soul of this apartment. The room is designed in Japanese minimalist style with futuristic texture detail on the wall behind the bed. Clean lines provide a fresh and unique perspective. Spacious room has entrance to the balcony. The area is divided with a sliding glass door and when it is necessary can easily become one space with the bedroom. An insulated balcony space is designed as a mini-workshop for painting and crafting. The panoramic window opens to an extraordinary view of the city, which contributes substantially to achieve the state of peacefulness and inspiration.
To create a place that meets your needs and satisfies your desires, please, contact Staver Design and we will make your dreams come true.